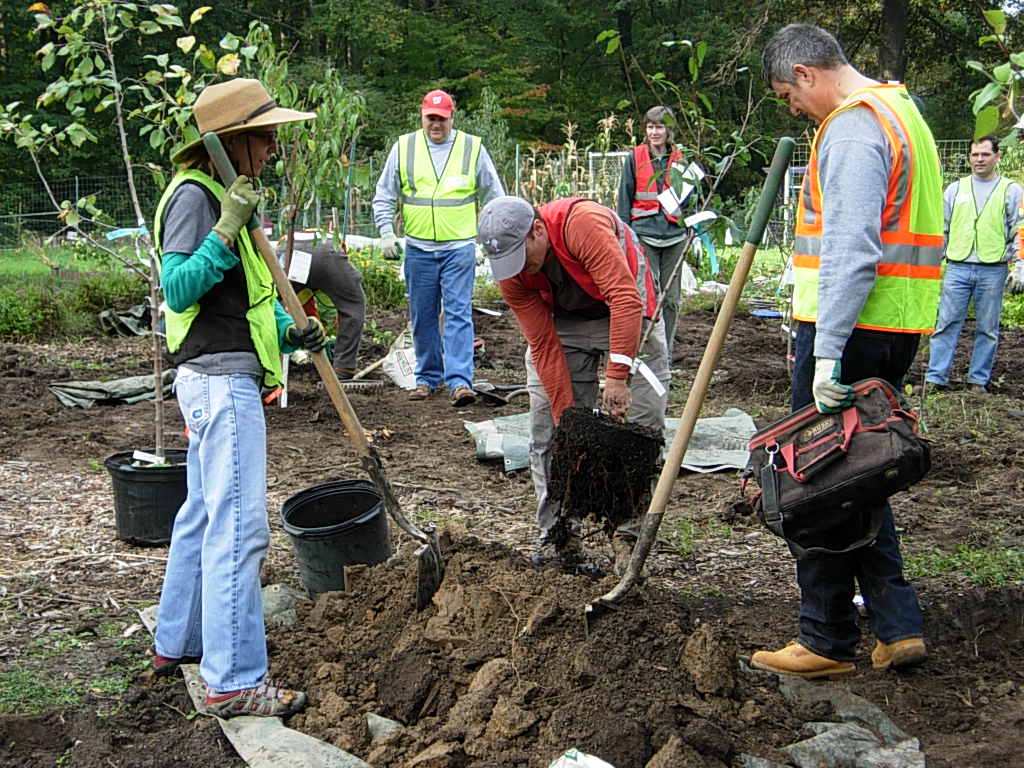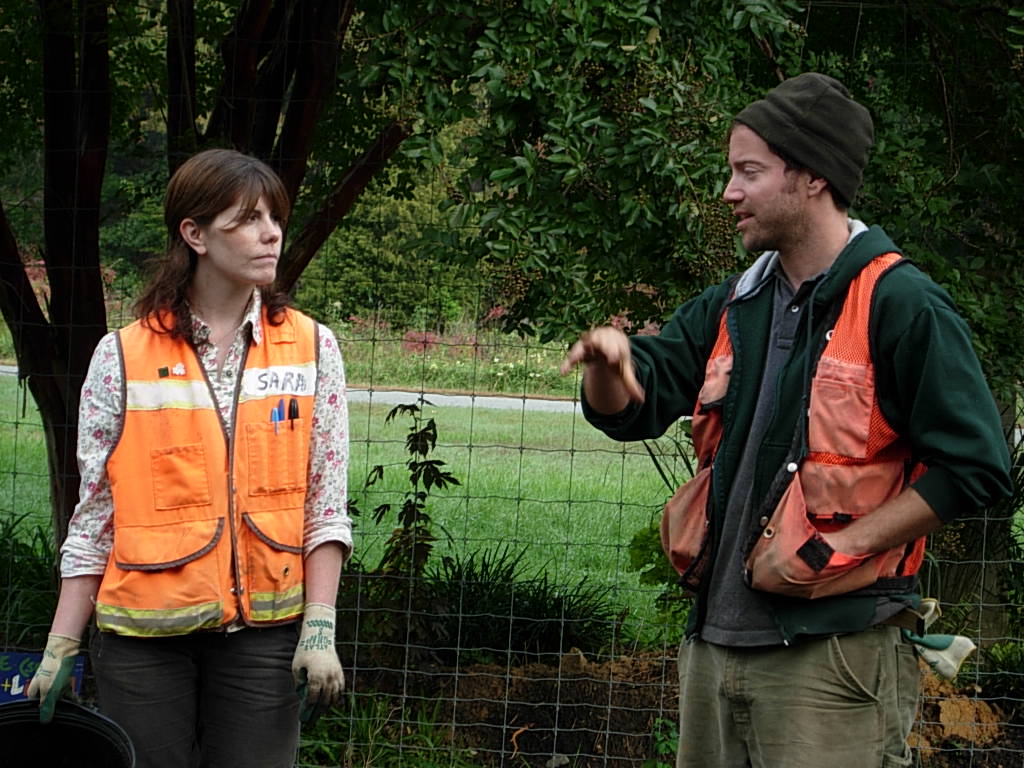 The season is coming to an end here at The Washington Youth Garden, which means WYG staff and volunteers are busy putting the garden to rest for the approaching winter.  It is hard to say goodbye to our annual blooms and vegetables.  It feels like we never quite have enough time together.  Out go the tomatoes, melons, okra, peppers, corn, and lantana blooms and in comes our extremely helpful garden friend, the lovely covercrop, with mixes of oats and crimson clover, oilseed radish, and winter rye to name a few.  The season's last generation of monarch butterflies has begun their long flight to Mexico.   The end of this week, October 21, also marks the end of a successful and fun SPROUT field trip season.  Change is in the air or in our case, the dirt.

However, not all is lost.  There are some amazing things to look forward to.  This past Tuesday, Casey Trees and volunteers (many from Clark Construction) planted 16 dwarf fruit trees inside the garden fence.  We are so honored to work with the fantastic crew at Casey Trees and accept their donation of four Liberty Apples, four Eddy Apples, four Red Haven Peaches, and four White Lady Peaches.  Tuesday's planting was so much fun and fast with all the help.  We planted our mini orchard with this vision in mind for the future: children meandering hand in hand down a green clover pathway lined with garlic tops, under a canopy of delicious fruit-bearing trees that provide juicy snacks and a little shade for our low-growing strawberries and lettuce plants.  Oh, we can't wait!  Thank you so much Casey Trees!  

With some time to spare this fall, our big project has been working towards protecting the garden from hungry burrowing creatures.  We are so so close to finishing our Groundhog Prevention Implementation Plan 2012 (a.k.a groundhog fence).  It would have been a back breaking project but, once again, the Washington Youth Garden community all chipped in to dig a 500ft trench, 1ft down and 1ft out, around the entire perimeter of the garden!!  We started about three weeks ago and all that is left is to finish attaching the galvanized poultry netting to one last side and then shoveling the dirt back in the trench.  We've already seen signs that it's working.  Butterfly Bob spotted a critter hole that stopped at the new underground fence.  Looks like whatever it was couldn't get through.  Hooray!  Let's hope this keeps the groundhogs out next year.  But I'm not holding my breath;  we all know that out here in the garden there's always something trying to eat the fruits of our labor.  Flying groundhogs? 
      
Last but not least, our Garden Assistant Heriberto Diaz's last day was Saturday.  He has started full time at Northern Virginia Community Collage pursuing a degree in Agriculture.  Right now we really don't know what we are going to do without him.  He is a person who knows how to get things done and is as focused on his goal as a robin is on catching an earthworm.  And all this with a constant smile on his face.  He promises to stay in touch and come out to volunteer when he has time.  We certainly hope so. 

Working in the garden is a reminder to all of us that change is the only constant. 

Happy autumn!