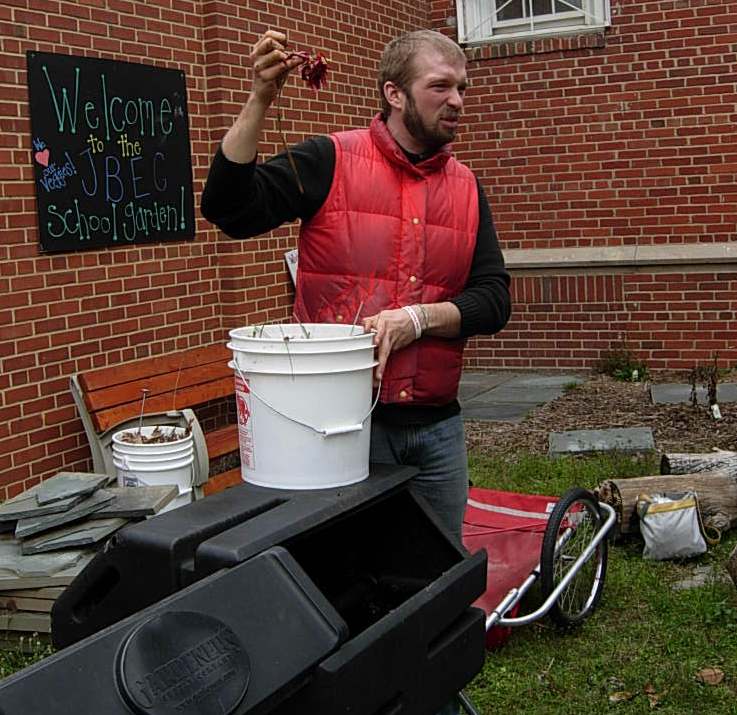 "Is riding your bicycle hard?"
"What do you do in the winter?"
"Do you have a car?"
The third graders at John Burroughs Education Campus were prepared with questions when Mr. James came to talk to their class about his composing business– Full Cycle Compost.
This particular class is no stranger to composting– they've already sorted out the finished castings (worm poop compost) from the vermiculture worm bin they've had in their classroom all year. It was, however, news to them that you could compost without an in-house team of pet worms.
Aside from talking shop about the science of composting and our many decomposer friends (who really do the job for us), Mr. James and the class got up to their elbows in the real math it takes to start your own business.
Mr. James described the service he offers: picking up food scraps on his bicycle to take home to compost with the promise of finished nutrient-rich compost a few months later. He asked the class, "How much would you spend for me to do this for you?" 
Replies came back, "25 dollars!" "50 dollars!" "20,000 dollars!"
"Wow! If I had two more customers like you I'd be set."
The conversation continued about his expenses and how many customers he'd need to make his long bicycle run down and back up a hill worth his time.
Finally, the class headed outside to get their garden's outdoor compost tumbler into action. Mr. James added the greens (fruit and veggie scraps, coffee grounds, and even a stray flower) and the third graders added the browns (each adding a handful of leaves).
With even more hands-on experience under their belts they should be all set for their end-of-the-year project: public service announcements about the benefits of composting. They've already started storyboarding so stay tuned!